I am starting to feel quite fond of pebbly beaches. Must be acculturating to life in the South East of England.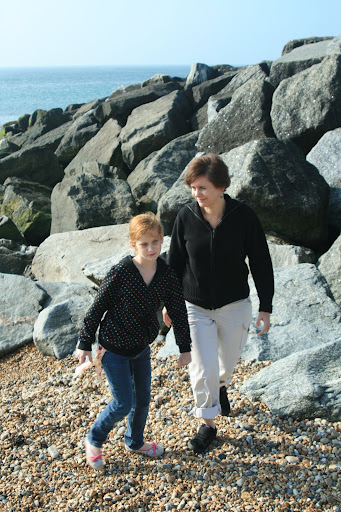 The full weekend update, with lots more pictures, is at
Bobby's blog
.
Though while he was flying his plane I was doing the laundry and scrubbing the bathrooms (she added, a tinge of bitterness in her voice). And while he was tiling I was working my way through an enormous mound of ironing.
It's worth getting through all the chores though, so that the new week starts off on a good note. I like that contented Sunday night feeling when all our clothes are hanging neatly in our closets waiting to be worn, and I know there are clean sheets on the bed, and nice fluffy towels in the bathroom.
Now, onwards to the day. Crawley tonight, oh joy. And open evening at work tomorrow night, more joy. But Bobs and I are thinking we should re-institute the date night tradition we used to have. Might take it in turns to think of something fun to do on a Wednesday evening...