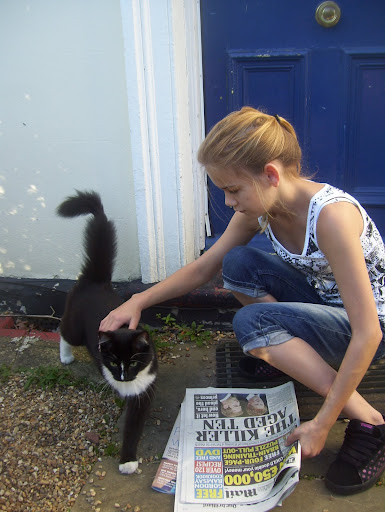 The picture is of Emily speaking to one of the cats she meets every morning as she does her paper round.
I never realised, before we changed countries, the extent to which cat care is culturally determined.
In South Africa, cats come and go as they please, pretty much. They come home to eat, and, while they may
choose
to spend most of their time in their own house and garden, they are also free wander round the neighbourhood if they so choose. And nobody thinks that's odd, they think that's just the way cats are. Independent.
In the US - or at least, where
we
lived in the US - it's considered reckless and unkind to the cats to let them into the garden, because they might wander off, and possibly get hit by a car, or catch a disease. So they have "house cats". Cats which are confined to the house, basically. And nobody thinks that's odd, or cruel (even if they see their cats desperately trying to make a break for it every time the front door opens) - it's the accepted wisdom on cat rearing.
And here in England, it's the same as it is in South Africa. Having an "indoor cat" is unheard of - unless there's something wrong with the cat, like it's blind, for instance.
What's interesting is that both sides are quite certain that they are right about what's best for cats. But I wonder if the English people would hold the opposite views if they'd happened to have grown up and learned about cats in the US, and vice versa?