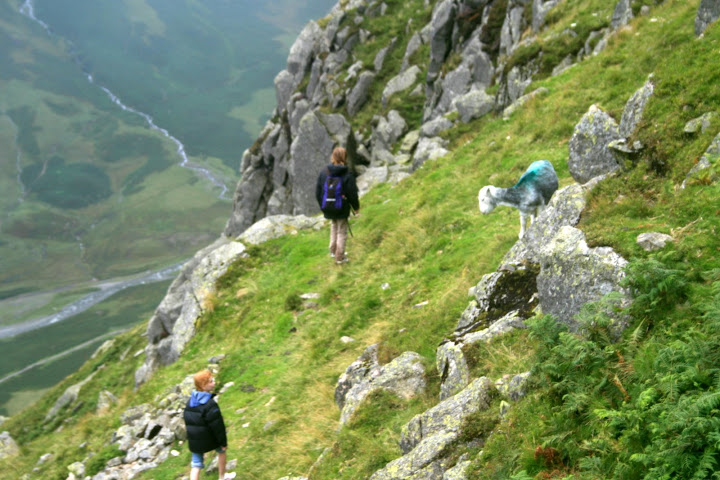 The Lake District is extremely beautiful.
It rains a lot there, though.
So we just had our wettest ever camping trip.
But, it was cool seeing the
real life setting for the Swallows and Amazons books
. We liked the sheep, who seemed to watch our every move. And our day climbing was
so
wet and
so
muddy that it moved from "a bit grim" into "hilariously funny". Coming back down the mountain we were all so sodden and so coated in mud (think boots that slosh each time you take a step, for instance, and slippery rocks which mean that everyone falls every few minutes) that even the kids were punch drunk and giggly rather than whingy.
The rest of the Lake District pictures are here...
Note that, despite going on long (wet) walks and long (wet) isolated climbs, we all survived intact.
Yesterday, however, while helping to clean out the car in our driveway, Emily caught her thigh on a bit of metal trim on the car door.
Extremely scary looking gaping wound,
lots
of blood.
Seven stitches.
The nurse at the hospital was great. And we were in and out within twenty minutes.
We are certainly
way
too familiar with our local hospital these days.